The 2017 hurricane season was the wake-up call that has brought attention to the fact that we must create long-term solutions to be prepared for future disasters.
To achieve this in the most effective way, we have met with key stakeholders in the Emergency Support Functions of the Government of St. Maarten, representatives of international relief organizations, and our volunteers to identify the areas in which we can play a key role.
With the Government of St. Maarten, we have committed to assist in manning and coordinating the logistics related to emergency shelters, coordinating the distribution of relief goods, and conducting first response. Though we have a pre-determined role assist in these areas, we are very much aware of the unpredictability and chaos related to crises and are prepared to assist in other areas as is needed. Additionally, K1 has also developed relationships with Governments of other countries in the region, and is currently in the process of clearly defining with them what part we will play in their disaster relief structures as well.
In order to adequately meet these needs both on St. Maarten and in the region, K1 has contacted, vetted, and selected a group of 40+ dependable, dedicated and equipped volunteers who will be insured under the foundation. Within this, the foundation has also developed a branch of K1 DIRECT in Curacao. The decision to launch a team in Curacao stemmed from the unpredictability of our team in St. Maarten being affected during a disaster, as well as the strategic location of Curacao. Curacao is situated outside the hurricane belt with a smaller probability of being hit with a hurricane; as well within the Dutch Kingdom, where they would be able to act immediately.
K1 DIRECT St. Maarten have completed and are undergoing a variety of trainings, including CPR, First Aid, AED, Bedrijfshulpverlening (training with the fire department), psychological first aid, and child protection in emergency situations. K1 DIRECT St. Maarten & Curacao have also undergone Disaster Response Training via United Nations Disaster Assessment & Coordination (UNDAC). K1 DIRECT also hosted an End-to-End Supply Chain Management Training in collaboration with Government of Sint Maarten facilitated by World Food Programme and Caribbean Disaster Emergency Management Agency.
Other trainings in relevant fields are being organized both regionally and internationally, and volunteers with leadership potential have the opportunity to undergo further training to play a leading role in disaster management within K1 DIRECT. This disaster relief team has the needed emergency equipment and supplies to functionally assist in the wake of a disaster. We are also partnering with strategic organizations to have the needed logistical support both on ground and in the region. Having very specific predetermined roles within the country's disaster relief structure enables us to act immediately to bring coordinated assistance in the wake of a hurricane, having been able to make all necessary preparations beforehand.
This program was created because of a very real need that became evident after Hurricane Irma. The basis of the program is to be proactive and effective in meeting that need for many years to come. As the program grows, so does the potential to help so many more in the region in an even more effective manner.
Hurricane Irma – Week 11 (Nov 13 – 18)
We partnered with Motorworld St. Maarten / St. Martin, alongside other local organizations with the intent to make 3000 food and care packages consisting of food packages, elderly and baby packages by the end of November/ Early December. Kooyman St. Maarten reached out to us and donated 3 pallets of milk and water. We started to deliver […]

Hurricane Irma – Week 10 (Nov 6 –11)
As we continue the rebuilding phase, we visited various businesses on the island in search for items and materials needed to rebuild the foster homes, vulnerable institutions, afternoon schools and daycares. For the specific institutions that we are helping, we have a list of specific materials and items that need to be donated either locally […]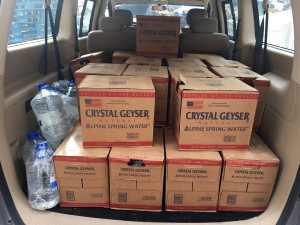 Hurricane Irma – Week 9 (Oct 29 – Nov 4)
We continued our work on the content and interviews for the international media by going through all footage from the past two months since Hurricane Irma as well as edit over 20 interviews we did last week. All footage and interviews were then sent to the media for positive stories about St. Maarten. Prime Distributors donated […]